Medical Malpractice In New Jersey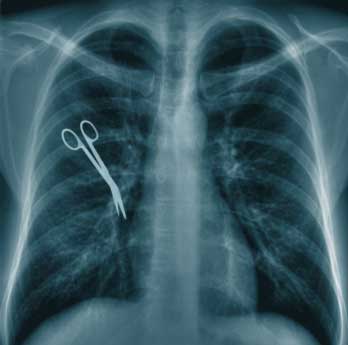 Thousands of people are harmed in some manner each year through medical malpractice in New Jersey hospitals, surgery rooms, emergency rooms and physicians' offices by medical negligence or malpractice that is committed by physicians, nurses, nurse practitioners and medical facilities.
What is Medical Malpractice?
Essentially, medical malpractice is substandard care that caused injury or death to a patient. A doctor or health provider has a duty of care toward a patient and must adhere to the level of competence that would be expected of a physician or other medical professional of average skill and ability practicing the same specialty and under similar circumstances.
To claim malpractice, the injured patient must also allege and prove that the injury would not have occurred in the absence of negligence. Merely because you had a bad outcome does not mean that malpractice occurred.
Also, the damages must be substantial or few attorneys will pursue the claim. Malpractice claims are extremely expensive and time-consuming and are not cost-effective if the cost in litigating is higher than the potential compensation.
Examples of Medical Malpractice
Some of the more common examples of malpractice can lead to catastrophic injuries and may include such errors as:
Failure to diagnose
Misdiagnosis
Leaving a foreign object inside a body cavity
Failure to monitor
Administering the wrong medication
Surgical errors
Wrong site surgery
Invalid informed consent
Many victims who survive are left with permanent injuries or their life expectancies have been drastically reduced. In some cases, medical insurance may not entirely cover the enormous cost of repeat surgeries or for decades of treatments and care. If you are unable to return to work, disability or other insurance is usually inadequate to provide for a comfortable life.
Responsible Parties
Although the physician who allegedly committed malpractice will be a named defendant, the hospital and other staff may also be named if they participated in the patient's care.
A surgeon or attending physician is responsible for the staff that attends to the patient and so can be named as a defendant even though it was a nurse or other staff member who may have committed the error that led to the injury.
The medical facility could be liable if its policies and practices are deficient, if it failed to adequately train staff, or in its hiring of ill-trained or incompetent physicians or staff members.
The Statute of Limitations
In New Jersey, you have two years from the date the medically negligent act took place to file a claim in court.
There is also the discovery rule that can extend this time limit. In many instances, the negligent act or the injury is not readily apparent and symptoms may not manifest themselves for many months or years. The standard is when you became aware of the injury, or reasonably became aware that the injury was due to the physician's act.
For those under the age of 18, the statute begins to run when the child turns 18, unless the alleged malpractice was a birth injury. In this case, the child has until the age of 13 to commence a malpractice action in court.
The statute is tolled, or paused, if the defendant medical professional left New Jersey after committing the malpractice or the injured party was mentally disabled or mentally ill.  For further information you can read our other post relating to the New Jersey Statute Of Limitations for personal injury.
Comparative Fault Law
Under New Jersey law, an injured plaintiff may only collect damages in a personal injury claim if his or her own negligence is less than 50 percent. For example, you may have neglected to follow your doctor's instructions in taking medication or in caring for a wound or other condition, or you may have neglected to follow-up with a specialist who may have discovered you were in the early stages of cancer.
The amount of your award is reduced by the percentage of your own fault. If you are determined to be 25 percent at fault, than an award of $1 million would be reduced by your percentage of negligence to $750,000. If you are determined to be 50 percent at fault, however, you recover nothing.
New Jersey's Informed Consent Law
Like most states, New Jersey mandates that medical facilities and medical professionals obtain the consent of a patient before a procedure, such as surgery, is undertaken. Informed consent requires that the patient or his or her authorized representative make a knowing decision about whether to have a procedure or treatment done after the health provider has given all the information that a reasonable and prudent practitioner would provide about the procedure. The consent must also be to the specific procedure that is to be performed and a safer alternative must be disclosed along with the benefits and disadvantages.
The information to be disclosed must include all the possible risks, dangers and consequences involved, such as side effects from medication, infections, anesthesia risks, alternative procedures and the consequences if the procedure is not performed. A physician must be aware and be informed of the patient's medical history since additional risks may be present in this case.
Damages in a Medical Malpractice Case
Like any other personal injury lawsuit, you are entitled to certain damages in a medical malpractice case, including:
Past and future medical expenses
Lost earnings
Lost earning capacity
Loss of consortium or the love and affection with your spouse and minor children
Pain and suffering
Punitive damages
Punitive damages are rarely awarded unless you can prove that the defendant health care professional or medical facility was fraudulent, malicious or showed a willful or reckless indifference to your health or care.
Unlike many other states, New Jersey does not impose a cap on your compensatory damages (medical bills and lost earnings), or on your non-economic loss or pain and suffering. The only limits are on the amount of punitive damages that can be awarded, which is the greater of $350,000 or five times your compensatory damages amount.
Filing a Claim
After you file a medical malpractice claim in court, you have 60 days after the defendant files an Answer to the complaint to file an expert affidavit or Affidavit of Merit.
This is a written, sworn statement from a board-certified health professional in the same specialty as the defendant, attesting that there is a reasonable probability that the defendant's care fell below the acceptable standard of care or treatment practices of a reasonably prudent physician under similar circumstances.
The purpose of the affidavit is to weed out frivolous claims. For practical purposes, you should obtain the affidavit before you file since it is often difficult to find a physician in the same specialty who will offer testimony against the defendant. Also, if there are voluminous records to review, it may take weeks for the doctor to render an opinion.
Retain a Medical Malpractice Attorney
Medical malpractice claims are one of the more difficult injury cases to litigate and to prove. Malpractice insurers have enormous resources and hire teams of experienced defense lawyers for doctors who are loathe to admit to a medical error or that their treatment or care was substandard. Find an experienced law firm and medical malpractice attorney who have successfully handled medical malpractice claims and who have the resources to meet those of any defendant.
Further Information
We hope you have found this guide to Medical Malpractice in New Jersey informative however if you need to speak to experienced Medical Malpractice Lawyers  regarding Medical Malpractice or any other New Jersey legislation matter, then please do not hesitate to Contact Sammarro & Zalarick for a free initial consultation and case evaluation.